Josh Ruebner

Policy Director, US Campaign to End the Israeli Occupation
Israel's Last Election?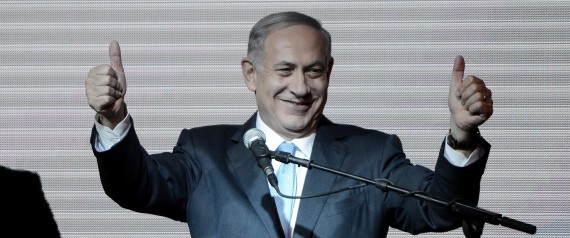 Defying all pre-election polling, which showed Benjamin Netanyahu's Likud party at best in a dead heat with its main electoral rival, the Zionist Union, the Israeli prime minister romped to a comfortable victory in Israel's election Tuesday, garnering 30 seats against the Zionist Union's 24. The results chart a relatively easy path for Netanyahu to form a right-wing government composed of extreme nationalist, pro-settlement, and religious parties.
How did Netanyahu, whose imminent political demise was taken as a virtual given only days before by pundits, rise from the ashes and secure such a convincing win? Through magic, as his supporters claimed at an election night rally? Not exactly. Netanyahu's abracadabra formula for winning the election — a combination of fear-mongering, racism and repudiation of his alleged support for Palestinian statehood — was transparent and on full display for all to see.
Two weeks ago, Netanyahu delivered a magniloquent, highly partisan speech in Congress, accusing the Obama administration of cutting a "bad deal" with Iran. The emerging agreement, which would ensure that Iran's nuclear program (unlike Israel's) would remain dedicated to peaceful purposes, was characterized by Netanyahu in cataclysmic terms.
And this week, Netanyahu unabashedly renounced his former position supporting a highly attenuated, truncated and conditioned Palestinian "state" — a non-sovereign entity under Israel's perpetual domination. His subsequent attempt to walk back his repudiation of Palestinian statehood was met with incredulity by the Obama administration, which has promised to "re-assess our options" regarding U.S.-Israel relations.
In the run up to the election, Netanyahu confirmed the obvious: his approval of Israeli colonization of Palestinian land in places such as Har Homa, situated between Bethlehem and Jerusalem, is designed to constrict Palestinian growth and prevent the emergence of any contiguous land mass upon which a viable Palestinian state could be established, relegating Palestinians to disconnected, South African-style Bantustans.
Netanyahu capped this appeal to the basest fears and prejudices of the Israeli electorate by stigmatizing Israel's Palestinian citizens, who account for approximately 20 percent of the country's population. He mobilized the vote on election day by claiming that Palestinian citizens of Israel were a "danger" to his government for — gasp — exercising their democratic right to vote and turning up at the polls "in droves." This anti-democratic demagoguery came one week after Israel's Foreign Minister Avigdor Lieberman, merging McCarthyism with ISIS, advocated for the beheading of "disloyal" Palestinian citizens.
The vulgarity and crudity of Netanyahu and his allies have successfully salvaged the prime minister's career for the time being. Likud's win, however, may turn into a Pyrrhic victory for supporters of an Israel that is designed as an exclusivist "Jewish state" built upon the dispossession of the Palestinian people and maintained through its continual oppression.
By definitively slamming the door shut on the prospect of establishing a Palestinian state, Netanyahu has reconfirmed what even senior U.S. policymakers have acknowledged. Two years ago, Secretary of State John Kerry warned that there was at most only a two-year period in which a two-state resolution would be feasible. And Martin Indyk, the Obama administration's point person for the ill-fated Israeli-Palestinian talks which took place last year, admitted upon their failure that Israel was creating an "irreversible binational reality" through its unabated colonization of Palestinian land.
Moreover, a potential confluence of events in the near term may isolate Israel further, rendering its separate and unequal treatment of the Palestinian people even more untenable. Next week, the UN Human Rights Council will hear an initial report on Israel's ferocious attack on the besieged Gaza Strip last summer, which is likely to offer evidence that Israel committed war crimes and possible crimes against humanity. The report will inevitably trigger demands that Israel be held accountable for its action toward Palestinians trapped under military occupation.
On April 1, Palestine will become a member of the International Criminal Court and is already preparing files to bring charges against Israel both for its conduct during its attack on the Gaza Strip and for its ongoing illegal colonization of Palestinian land. In retribution for Palestine applying for membership in the ICC, Israel has halted the transfer of taxes to the Palestinian Authority (PA) that it collects on its behalf, bringing the PA perilously close to the verge of economic insolvency. In turn, the Palestine Liberation Organization has called on the PA to cease security coordination with Israel, a move which PA President Mahmoud Abbas has so far resisted. Should Abbas reverse his decision or should Israel continue to withhold Palestinian taxes, the PA could very well collapse, dismantling the fig leaf of Palestinian autonomy.
Regardless of how these events unfold over the next several months, it is clear that relations between Israel and the Palestinian people are at an historical juncture, with old truisms about how to resolve this conflict "irrelevant" now, in the words of Netanyahu.
When white South Africans cast their ballots in 1989, few foresaw that it would be their last vote under the country's apartheid regime. F.W. de Klerk won that election, promising to reform apartheid in a futile attempt to save it. Netanyahu, in his muscular and brazen advocacy for Israeli domination over Palestinians, is no de Klerk. But like de Klerk, Netanyahu may find himself presiding over the final years of Israel's hegemony over all of historic Palestine.
Follow Josh Ruebner on Twitter: www.twitter.com/joshruebner